5
Rendered output color not matching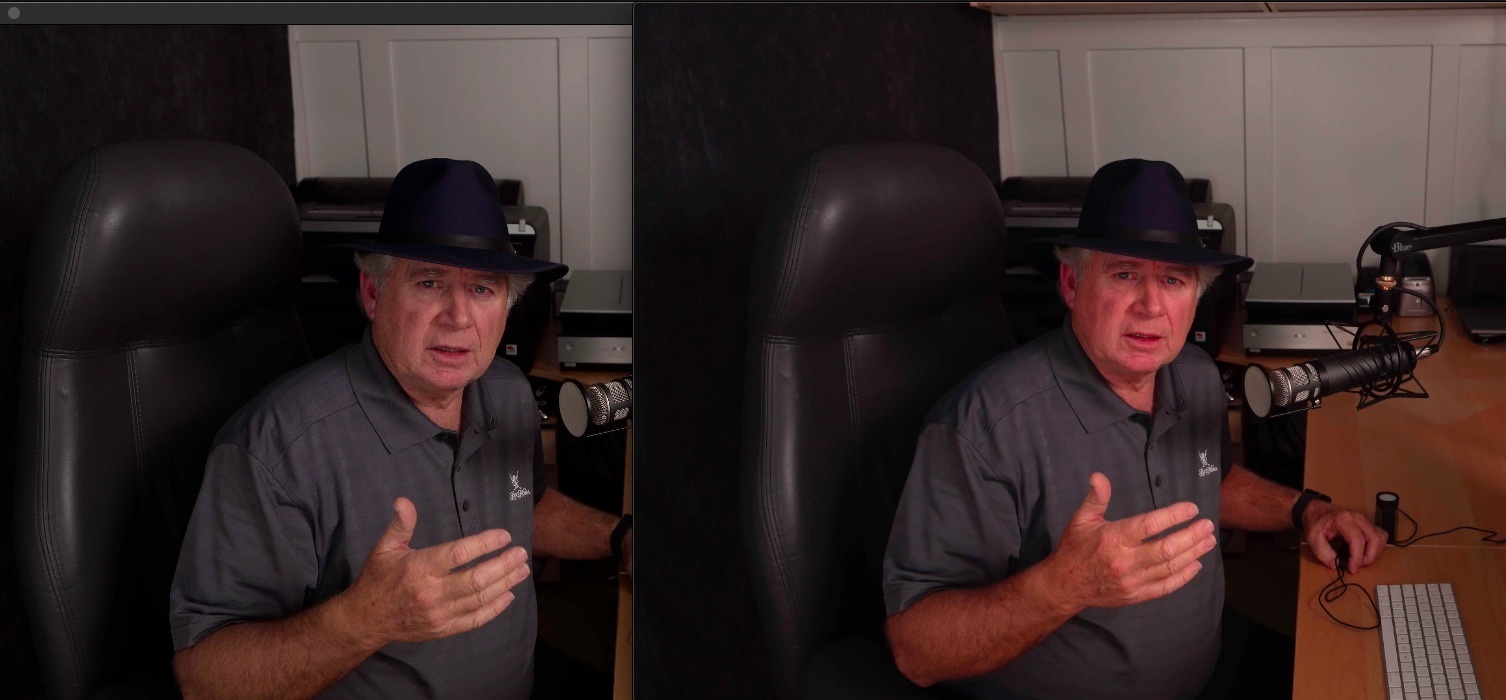 I've been testing capturing through HDMI, and everything seems to be working pretty well except the color rendering. The color as displayed in screenflow seems to be fine, but when it's rendered to file or to Vimeo, colors are off pretty dramatically. this only happens when I capture the HDMI feed into screenflow, if I capture it with Quicktime and then place that into screenflow I haven't had any problems.
This doesn't affect the screen capture colors at all.
I would be great to use ScreenFlow to capture 4k video from a decent camera (have tested it with several Sony cameras), but need to figure out why the color mismatch and if there is a way to prevent it. On the video am working on one clip capture at the end rendered's fine, but all the other clips seems to render like the attached file. (left is screenflow, right is rendered file opened in QuickTime)
Catalina 10.15.2, ScreenFlow 9.0.1. Using a BenQ 271 and a NEC 302W display (both high gamut displays).
Thanks for any thoughts.
Elias Coutinho de Oliveira

said:
I don't understand how this impacts only a few users.

I don't anything that different on my system I tested on an iMac Pro and used a DataColor test chart.

Facetime camera with DataColor test chart. Capture and export from Quicktime next to ScreenFlow capture and export ProRes codec.

ScreenFlow 9.0.5
iMac Pro
macOS Mojave



I don't know much about how color works... but my girlfriend is a professional photographer - and she says there's something weird happening.

Sony a5100 > cam-link 4k > ScreenFlow

The top image is how the preview looks (even in ScreenFlow recording monitor) / and in every other video capture I tried. The bottom image is after it gets recorded in ScreenFlow. The detail seems the same... so, 'saturation' sounds pretty right-on.

If we set the saturation down to color-controls >saturation > 80, then it gets pretty close, but the color is also off in other ways.

This is on a brand new fast iMac with fresh installs of everything.

sheriffderek

said:
This is on a brand new fast iMac with fresh installs of everything.

Yes it's worse on some computers than others and we need to figure out why. I can see it on my computer but it's much less pronounced. That's why I took screenshots of scopes. You have to test with exports playing in the same player because internal program processing may not be as accurate. What you see in ScreenFlow may look different than what's exported (although how it displays in ScreenFlow is also an issue). What's exported is what counts. And you have to compare exports in the same player since different players will look different. A file played in VLC may look different than a file played in Quicktime.

You can even upload the very same file to YouTube and Vimeo and the colors and contrast may look different and that's further complicated if they are not played in the same browser.

I was an assistant colorist for a time.

I believe in you, CraigS . As always - you are doing the good work!

Here are some more sources to help figure this out:

Then I exported THAT - and it just keeps going... for every 'capture' or 'export - it looks like the same percentage of 'wrong' is added to the mix.

For all I know... this could be a new problem - introduced by a recent update.

If it's 'not' effecting people - then, they probably just don't notice.

For me - it's basically halting my entire business.

What do you suggest? What can I do to help?

Here's the video -> https://vimeo.com/475576625

How can this be anything other than Telestream's #1 priority?

It's taking the video and ruining it.

Can you gather any info from the team regarding the actual files? If I record 100 videos - and spend 800 hours / are my files just garbled for life? Or - will a possible fix restore them? Is it just an 'adjustment' - or is it degenerative - and something that we can't correct? Any information will help me decide what to do - of if I'll need to buy different software for this. Like I always say - you charge too little... and I love ScreenFlow - and I'd be happy to pay hundreds of dollars for "works better" upgrades.

sheriffderek this has been a problem with screenflow for all users for multiple versions and updates. It's affecting every computer I've ever worked on (5+) and every camera I've used (iphone, gopro, DSLR, mirrorless). Same footage in iMovie, FCP, and Premiere all looks great on export. But like you, i get the massive sunburn effect which has bricked Screenflow for me until it's fixed, and as you'll see in this thread, there's no timeline for the fix. I recommend planning accordingly.

What do we have so far - as far as concrete facts?

Does this have to do specifically with the CAMlink?

Does this have to do with when we record screens AND camera?

Can this be measured?

Why does it look red - and then look less-red after export?

left: recording screen AND camera right: just camera

with-screen shows super red in SF without-screen shows red too / but much less

After exporting that the color chills out a bit / but the bottom left - is notably chunky.

Can we get all the facts compiled somewhere / or a list of what we need to do to help explain the problem / or test various sets of options???

How are we going to come to some conclusions on this?

Camtasia has tons of unsolved problems like this too - so, switching doesn't solve the problem either. I've probably put in 10k to get ready to record this next set of videos - and this feels really really terrible.

Is this just a "discussion" or is there a feature request submitted? Where is it? Do I need to make one?

Do you have a more fleshed out high-end product for this? Wirecast is for streamming.

CraigS Can you do a color card test - where there are some background things / like hold it on your chest - or show some other things? It's gotta be more factors than that.

What is the official stance? Are you saying that it's just a fluke - and it's not real?

Please inform us of what telestreams official stance is - and what the plan is.

sheriffderek

said:
Please inform us of what telestreams official stance is - and what the plan is.

Thank you for showing why this is not a simple issue. As I posted it's an investigation. Given all the permutations with different results that may range from sources to OS to GPU to monitors, we're sorting this out. Add to that Big Sur and Apple Silicon and its GPU and there's a lot involved. You've born out the complexity in your testing.

You can certainly test for further variations comparing CamLink to Facetime and maybe a Logitech webcam as well.

We're investigating. Ideally, we'd want a uniform color fidelity system.


ScreenFlow 9.0.5
macOS 10.14.6
2017 iMac Pro, AMD Vega 64 GPU

Left Test Chart on Desktop
Center Test Chart after capturing in ScreenFlow.
Right Test Chart exported Apple ProRes
It's very close for me more or less like my other examples. Slight differences for sure but nothing as dramatic as your posts. Changes seem most notable in green/blue areas.