0
Can't Delete Markers Added During Recording
BACKGROUND:
While recording, I press the "Add Marker" shortcut to add a few Markers. When I am done recording, I begin to edit my recording, adding new Markers as needed.
THE PROBLEM:
The Markers I add during recording cannot be deleted and they are added in an inconsistent way.
EXAMPLE: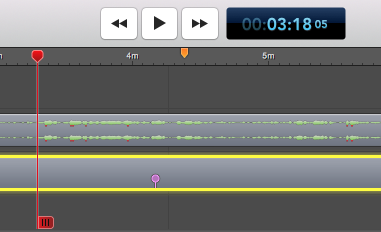 The orange marker (top) was added during editing. The pink marker (bottom) was added WHILE recording.
Both appear in the Marker Window (Marker > Window), but only the orange Markers can be deleted.

How do we delete Markers that were deleted during recording?
Why are the Markers added during recording different than those added when editing?
You have to bring the scrubber/playhead to the marker first, then do Mark > Markers > Delete or Shift~ (tilde). You won't see this option unless the scrubber/playhead is atop the marker. It's contextual. The Delete all (markers) option is always available.

Recording Markrs have to be different because, unlike Markers in editing, there is no opp'ty to label them.

Frank Lowney said:

You have to bring the scrubber/playhead to the marker first, then do Mark > Markers > Delete or Shift~ (tilde).

JONO: That works, but is not viable, because I've already gone and added new Edit Markers to the same place that the Recording Markers are. If I scrub ahead to the Marker, and go to "Mark > Markers > Delete" it deletes both Markers.

Frank Lowney said:

Recording Markrs have to be different because, unlike Markers in editing, there is no opp'ty to label them.

JONO: Both types of Markers can be labeled while editing by double clicking on them.

SEEMS LIKE A BUG OR INCOMPLETE FEATURE:

The best option is to make "Markers" behave like "Markers," whether they were added during recording or editing. I cannot see a valid reason to make them different - I see not advantage to making them different. I suppose the next step is to file this as a bug.

I would love to be able to label Markers added while recording - if Telestream could find a way to make the late window that appears NOT part of the recording. This will be my next feature request.

Thank you Frank, I can at least now delete the Markers added during recording, changing my workflow a bit to accommodate the bugginess of Screenflow Markers.

CraigS I wasn't aware of the Marker Window. So, yes, this addresses the question by Jono Young BUT why is it not in the Mark menu? It is actually in the Window menu! Further, why would this or any other window be accessible from the Window menu when it has not been previously opened by the user?

This and the labeling problem I alluded to earlier are good examples of the rather odd UI choices made by ScreenFlow developers. I would love to know what their rationale for this was.

Frank Lowney said:

Recording Markrs have to be different because, unlike Markers in editing, there is no opp'ty to label them.

I should have written:

Record Markers have to be different in color because, unlike Edit Markers, there is no opp'ty to label them at creation time (during recording). However, one can add a label to them in post where the differentiating color helps the editor know which markers were placed during the recording session and which were done during an editing session. One use of that info would be that the editor will know at a glance which markers don't have a label because they are record markers.

Now, should the color of a record marker change to a third color after we add a label to it in an editing session?

Frank Lowney the problems with the current way Markers are handled are:

Markers added during recording are harder to work with than Markers added in Edit mode. They should behave the same exact way.
Right-Click on a Recording Marker should behave the same way as right-clicking a Marker added during editing.
Right-Click to Delete a Marker should behave the exact same way, regardless of when a Marker was added

THE BOTTOM LINE:
Having recording Markers and Edit Markers appear a different color is great, but making them behave different is wasting previous time and making the Screenflow harder to use, which will ultimately reduce the number of people paying for the full version from a trial.

It's an Agile world, and I'm sure these things will get priorities and fixed one day. I am submitting a number of Feature Requests around Markers. Hopefully it goes as well as the one I submitted a few years ago for the ability to add Markers during recording.

Exactly like this:

PROBLEM:
Markers added during recording behave different than Markers added during Editing. It is too hard to edit Markers added during recording.

CURRENT BEHAVIOR:
Right-clicking on a Marker added during recording does not allow me to Delete the Marker, while right-clicking a Marker added during editing does.

EXPECTED BEHAVIOR:
Right-clciking on a Marker added during recording should behave the same way that right-clicking on a Marker added while editing does. Allow me to Delete it and show the other Markers list.

CraigS said:

You can Right Click and Delete a Record Marker

Indeed you can BUT to delete a Record Marker one has to place the scrubber/playhead directly over that marker and then Control/Right-click the "grabber" at the top in order to get the Delete item.

Contrast that with deleting an Edit Marker. Simply Control/Right-click on that marker and select Delete Marker. Interestingly, doing that also causes the Scrubber/Playhead to jump to that location so a screenshot won't show the difference.

Perhaps that's the missing piece. If Control/Right-clicking a Record Marker also caused the Scrubber/Playhead to jump to that position on the timeline, we should expect to see the same contextual menu as pictured above, no?

Both Record and edit Markers should behave 100% the same exact way:

deleting (not working as expected)
renaming (working as expected)
moving (working as expected)

The feature request is in, so hopefully it gets fixed.

Next feature request will be for exporting Markers and a few ways to make that better.

Jono Young Are you familiar with Subler? Briefly, this free macOS app includes these features:

Creation of tx3g subtitles tracks, compatible with all Apple's devices (iPod, AppleTV, iPhone, QuickTime).
Mux video, audio, chapters, subtitles and closed captions tracks from mov, mp4 and mkv.
Raw formats: H.264 Elementary streams (.h264, .264), AAC (.aac), AC3 (.ac3), Scenarist (.scc), VobSub (.idx).
metadata editing and TMDb, TVDB and iTunes Store support.

It exports and imports Chapters which is what ScreenFlow markers become on export.

Frank Lowney thank you for sharing, I was not aware of Subler.

What I really want is a way to export the Markers, as a text file, in this format:

00:00:30 Marker Name Here (or Marker Name Here 00:00:30)
00:01:00 Marker Name Here
00:01:14 Marker Name Here

That way, I can paste the Marker list into the video's description on YouTube or Vimeo, allowing viewers to click on the time to jump forward or backwards.

Currently, I use Alfred's (AMAZING btw) Clipboard Merging to accomplish this, but I have to do a lot of editing to the Marker list to remove space and line things up.

Can Subler accomplish this? Does it allow for Copy/Paste or Export of the Chapter Marker list?

This is what I need:


Export would send the Marker name and Time into a TXT document, per above. Perhaps an option to "Include Time" in the Export Dialog.

Frank Lowney I gave Subler a test, it is a step closer to what we need, but produces and export of Chapters that is a bit messy:

From this:


Comes this:
CHAPTER00=00:00:00.000
CHAPTER00NAME=Getting Started
CHAPTER01=00:00:30.500
CHAPTER01NAME=Introductions
CHAPTER02=00:01:48.200
CHAPTER02NAME=Q1: What are the elements of good leadership…
CHAPTER03=00:02:18.500
CHAPTER03NAME=A1: Transparency, approachablilty, delegation, availability, communication
CHAPTER04=00:04:22.800
CHAPTER04NAME=Q2: What are some of your daily challenges…

I think this will be better than the current Alfred workflow that I use, I will test it. Still lots of TXT file edits and Find & Replaces to do that could be alleviated with a proper Marker Export feature in Screenflow.

As with subtitle (*.srt) tracks, you'd probably want SF to export and import chapter tracks which are very simple *.txt files. With that, you'd have a round trip experience between SF and apps such as Subler for both Chapter and Subtitle tracks.

In Subler, one can edit both the title and the time stamp. However, you don't get to see the frame that a time stamp corresponds to. This may be important since that frame is what your audience sees when using the chapter track to navigate. Note the problems with this movie:

To maximize the value of a chapter track as a navigation tool, one should select key frames so both thumbnails and movie frame are clear and sharp, not like shown here. I don't think that SF can tell you in Edit mode where a key frame is going to be nor does it force a key frame at marker on export as we might prefer. Perhaps this is yet another feature request.

Check out the Subler documentation. In particular, the section on the chapter text format. I'm not sure if this is a standard or not. There is an Ogg format and the format used by mp4v2's mp4chaps utility.

A lot of this coding activity is driven by movie fans who create/re-purpose subtitles and chapter tracks in many languages (fan-subbers) other than those offered by the studios. I don't know what they call someone who creates/re-purposed chapter tracks - fan-markers perhaps.

I have corresponded with the author of Subler asking for a way to visualize the thumbnail that a given time stamp will generate. We'll see what happens.

For ScreenFlow, forcing a keyframe at each and every marker on export would be an elegant solution. Third party apps are fine, especially when they are free but the goal should always be to evolve ScreenFlow to the point where they aren't needed as much or at all.

All I want to be able to do is export a Video Table of Contents from the Markers:

00:00:06 First Marker Name Here
00:01:26 Second Marker Name Here
00:03:08 Another Marker Name Here
00:05:31 Last Marker Name Here
…

So I can copy & paste them into the descriptions on Vimeo and Youtube - the times act as jump links so the view can skip forward and backward.