0
Can't Delete Markers Added During Recording
BACKGROUND:
While recording, I press the "Add Marker" shortcut to add a few Markers. When I am done recording, I begin to edit my recording, adding new Markers as needed.
THE PROBLEM:
The Markers I add during recording cannot be deleted and they are added in an inconsistent way.
EXAMPLE: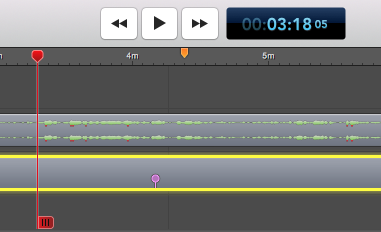 The orange marker (top) was added during editing. The pink marker (bottom) was added WHILE recording.
Both appear in the Marker Window (Marker > Window), but only the orange Markers can be deleted.

How do we delete Markers that were deleted during recording?
Why are the Markers added during recording different than those added when editing?
Given that YouTube functionality is tied to the lowest common denominator among web browsers, this is about the best that they can do. Support for in-band media (MP4 video tracks for alternate audio, subtitles and chapter tracks) is currently limited to Safari and even that is incomplete. Safari doesn't yet support chapter markers although Apple has acknowledged the omission w/o indicating that they plan to add it. Thus, YouTube et. al. are currently stuck with out-of-band media, at least for the present. I think that, eventually, support for in-band media among the leading web browsers will be ubiquitous.

However, the web is not the only venue for video and some take issue with the policies and procedures of the leading video hosting solutions, especially when it involves monetization. Video is found in eBooks (ePub 3 standard plus Apple's multi-touch books), as well as in native playback environments for mobile and desktop systems. ScreenFlow should help us reach all of those audiences.

The first step is identifying a standard format for chapter markers or, failing that, develop one in concert with other stakeholders. Second, develop import/export routines for ScreenFlow. Third and last, develop a checkbox in Export that includes a chapter track in the export and causes ScreenFlow to force a keyframe at every marker.

Here's a thought on how to further enhance the value of visual navigation via in-band chapter markers in a Chapter Track. Remember how those old time silent movies used inter-titles? You know, the few seconds that the camera shows a signboard with info critical to audience understanding on it such as, "Meanwhile, back at the ranch ..."

Why not continue that tradition into the 21st century by placing inter-titles at those places in your video where the audience would benefit from a textual cue that a new key point is about to be made? Matching these inter-titles with markers will produce a video whose chapter track consists of inter-titles that use coordinated images and text to label and introduce each new topic in your presentation. This could be a real boon to video navigation.

Jono Young Thank you for helping me find Subler. Even though that text format is not easy for humans to read, some simple regex magic will turn it into a format that I can paste directly into my notes formatting in Markdown. I'll write my experiences here in this thread, and maybe eventually in an article, if it becomes significant enough. :)

Jono Young I opened the Chapters .txt file and did a Search and Replace with a multiline regular expression.

I matched: CHAPTER(\d+)=(.+)\nCHAPTER(\d+)NAME=(.*)

I replaced it with: $2 $4

And this replaced my chapters text file with "<timestamp> <marker text>" on each line. Does this give you enough information to be able to do this for yourself?