1
Wirecast Virtual output to Skype, not available in calls
Windows 7 (7601)
WirecastPro 6.0.8
HP Zbook17 i7-4930MX @3.00GHz 32Gb ram
Wirecast Canvas size 720p
I am trying to send my Wirecast output into a Skype call. I have the Wirecast virtual camera out set to HD720p with Virtual Microphone enabled as well.
In skype the settings I see look good and I have picture.
Even when I'm starting a call I can see the Virtual Camera before the call answers.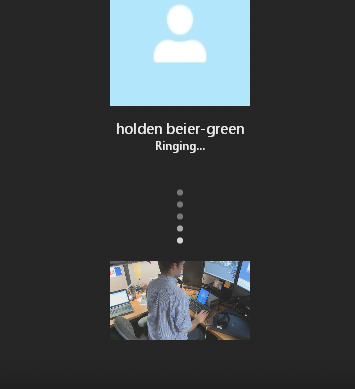 But when the call connects the virtual camera feed stops and goes away and the enable video icon turns to this and I cant start it back up.
The virtual microphone still works and I can hear the Wirecast output but don't have video.
Is this even a Wirecast problem? Is this a Skype issue? I don't think it is a bandwidth issue the other end of the call is able to send video back.
I haven't tried sending my manycam video but I have received video from skype when having the caller in a skype shot; that user having the same setup as me, windows 7 ultimate and skype 7.26. In fact, they are using manycam to send video to me; when I try and send them MY wirecast virtual cam so they can see the live show, which obviously they can't thus the above issue. So is this skype's problem or manycam's just to make things even MORE confusing. lol

We are investigating this of course.

Yvilene Fill out the form as it may help us work on the particulars.
Wirecast Support Form

OK, CraigS . Here's my update...

I decided to try rebuilding my Wirecast file...and to my delight (using 7.1) I have regained control of Skype. Interestingly, though, despite the fact that the virtual camera output is working, when I call someone they cannot see me. But when we hang up and they call me, it all works.

I can work with this annoyance...but it certainly does suggest that the glitch is on the Skype end of things.

I got this today from support:

Our developers are aware of the issue, and have identified it as something that was broken by an update to Skype. We are contacting Microsoft to resolve the issue.

In the meantime, we can suggest a workaround of rolling back to a previous version of Skype, which you can download here:https://web.archive.org/web/*/http://download.skype.com/msi/*


I have had this problem for the past two months. After several calls to Skype I found out it was an error caused by their update. They rolled me back to 7.0 and I have not had the problem since. Just make sure you disable "auto-updates" otherwise it will only work for your first call and then autiouodate and you'll think it's broken again like I did. Hopefully Skype fixes this soon!

WORKAROUND: I have an external, full-screen monitor (Output/External Display Output), so I tell Skype to Share Screens (Call/Share Screens, then it opens a box to choose the screen. I choose my Full Screen external monitor). The result is the same as if Virtual Camera was working - the other party sees my Wirecast output.

I have the problem exactly as others described it. I see the Virtual Camera in Skype Tools/Video, but when the connection starts, I can't send video. A few times the Virtual camera worked when I received a call... sometimes. That didn't work tonight. I had also been making calls to an Android phone and tablet (Nexus devices running Nougat). So tonight I also tried calling another PC - same failure. Didn't matter who called who.

I shut down Wirecast and let Skype take one of my Logitech 920 webcams, and that worked fine. Only the Virtual Camera failed.

Wirecast Pro 7.1.0 on Windows 10
Skype 7.28.80.101 on both ends

The Share Screens workaround keeps me going, but it would be good to get a fix.

I just submitted the form to add to the record.

Any update on this issue? My Logitech C920 USB webcam works fine in Skype. But when I use it as a source in WC, it stops sending video once the call connects (even though it shows in Skype in preview and when the call is initiated). Same holds true for my camcorder through an Intensity Pro and WC.

I confirmed that this behavior is also an issue in WC 6.06. I've also tried with an older version of Skype that I know used to work. So my guess is there was something in Windows 10 and not necessarily Skype (?) that broke this. I don't have a Windows7 system to try this out on unfortunately.


Thanks, Mike