1

Wirecast Virtual output to Skype, not available in calls
Windows 7 (7601)
WirecastPro 6.0.8
HP Zbook17 i7-4930MX @3.00GHz 32Gb ram
Wirecast Canvas size 720p
I am trying to send my Wirecast output into a Skype call. I have the Wirecast virtual camera out set to HD720p with Virtual Microphone enabled as well.
In skype the settings I see look good and I have picture.
Even when I'm starting a call I can see the Virtual Camera before the call answers.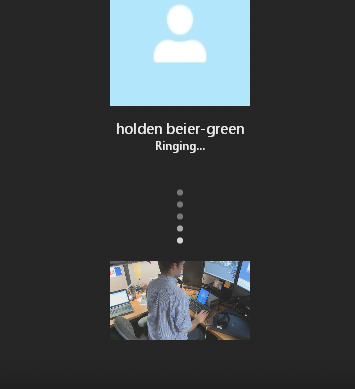 But when the call connects the virtual camera feed stops and goes away and the enable video icon turns to this and I cant start it back up.
The virtual microphone still works and I can hear the Wirecast output but don't have video.
Is this even a Wirecast problem? Is this a Skype issue? I don't think it is a bandwidth issue the other end of the call is able to send video back.
I have rebooted and it works while I am live. Meaning the other people who are on Skype video can see me, I can see them, and the audience I am broadcasting to can see and hear us too.

However, I record the show, and then edit it after. On the recorded playback the audio is off by about 15 seconds. Not a big deal, since I'm editing anyway. But it didn't do that before. So I'm assumeing it's a codec issue. Either way, I'll deal with that in order to have video.

But I hope a real solution is coming soon.

CraigS - sorry I've been AWOL for a while.


I'm running Windows 10 (clean install) and keep up the latest Wirecast and Skype versions (but I see there's a new Wirecast update to install since I tested things last - been down with the flu).

The 'Skype fix' didn't cause any of the problems @Juan Cruz mentions (loss of contacts, audio delay). What I do see is that the video I send is limited to 480p 3x4, even though the virtual camera is set to 1080p (and I've got the bandwidth for it). My upload data rate is correspondingly lower (about 600 kbps vs ~2 Mbps when I'm sending 1080p, all highly variable, of course).

Since I put up web site images that I need my guests to see edge-to-edge, I'm still using the "Share Screens" workaround on my shows. That lets them see my full Hi-Def image. That is, I use Skype's Share Screen option under the Call menu, and share my Full-screen Wirecast output monitor. When I start that, Skype itself shrinks to a little window that I have to click to bring back to its own full-screen monitor. Yes, I have 3 monitors , and could use 4 (or 5). So a little fussing to get it all set up and usable.

I suspect the 'Skype fix' falls back to an old codec that can't handle 1080 or 720p. I'll play with it yet some more when I get time.

I'm hoping the filter/kernel camera notes mean something to the Wirecast programmers. Maybe they can share some insight with @CraigS and you can share it with us.

Understood, no problem. Let'em do their thing!

Had some time to play more today.

Skype updated itself, and restored its RtmCodecs.dll file. No more Virtual camera (once I'm connected to a contact) until I disabled the coded again (renamed it per instructions above and restarted Skype). This time I started getting the Skype needs to update warnings (ignored them).
Set my Virtual Camera to 720p, and I was able to send a 16x9 image, though not great bandwidth (~600 kbps outbound).
Tried switching to Share Screen instead of Virtual Camra and bandwidth both directions took a big hit, ~200 kbps both ways.
Closed everything, restored the Skype codec, rebooted everything, and using Share Screens I'm back to sending a 4 Mbps stream and receiving a 2.5 Mbps stream*.

So I think I'll stick to Share Screens for now.

*And FWIW, I'm seeing some fast, dramatic bandwidth adjustments in Skype recently. Right now I'm sending my Wirecast (Screen Share) output to a laptop on another Skype account (that's how I've been testing). As I switch between a live camera (with little motion), and the web page I'm typing this on, my outbound data rate jumps from over 4 Mbps (live camera) to about 150 kbps (web page). Over on the laptop screen, the web page looks sharp and readable, and still updates with my typing (little bandwidth upticks with keystrokes! cool).

Here's an image of that that looks like from a NetMeter tool:

The Red line is data from my laptop. The green line is what I'm sending, and the big jumps are the switches between camera video and web video. I think this is progress for Skype.

Gary Pearce You'd have to use Skype Classic found on the Skype website. The version found in the Microsoft Store doesn't work with Virtual Camera. This is due to changes by Microsoft. We are investigating but it may be something Microsoft has to fix or, otherwise, done deliberately as part of an alternative development path.