1
Wirecast Virtual output to Skype, not available in calls
Windows 7 (7601)
WirecastPro 6.0.8
HP Zbook17 i7-4930MX @3.00GHz 32Gb ram
Wirecast Canvas size 720p
I am trying to send my Wirecast output into a Skype call. I have the Wirecast virtual camera out set to HD720p with Virtual Microphone enabled as well.
In skype the settings I see look good and I have picture.
Even when I'm starting a call I can see the Virtual Camera before the call answers.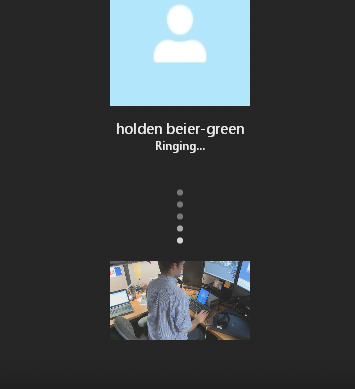 But when the call connects the virtual camera feed stops and goes away and the enable video icon turns to this and I cant start it back up.
The virtual microphone still works and I can hear the Wirecast output but don't have video.
Is this even a Wirecast problem? Is this a Skype issue? I don't think it is a bandwidth issue the other end of the call is able to send video back.
Hi guys, I am using Wirecast 6.0.8 and Skype 7.26. I have the exact same issue. I am calling someone ELSE who also is using skype 7.26. He is also using a virtual camera software that sends video to ME, perfectly fine. HOWEVER, when I attempt to send Wirecast virtual cam to him, my skype video icon greys out and no video is sent. When I send video from Manycam for instance, its fine, no issues ever, but I'm NOT using that at the moment. I'm also using Windows 7 Ultimate. So... no ipad is being used HERE. What could be the issue? We have a ridiculous amount of bandwidth:)

Yvilene

First start Wirecast and setup your shots. In Wirecast > Output > Virtual Camera enable Start. Ideally your Canvas should be as standard frame size such as 1280x720 so please check that.

In Skype > Tools > Options > Video Settings
select Wirecast Virtual Camera and make sure you see Wirecast's output.


In the example below on Windows 7, Wirecast 6.0.8, Skype 7.26, I am sending a Wirecast graphic via Virtual Camera.




your image shows the video icon is NOT greyed out. Mine DOES grey out. I said that in my initial post. Why is it everyone who posts here seems to have to repeat their point after its repeated by the support person as if the original poster never said it in the first place? I SAID THAT ALREADY. lol It doesn't START that way, I actually see it change to greyed out status even though I can see the wirecast video just as in your image agove. So.... ?

CraigS

ARGH...I'm pulling my hair out with this issue:

As described above, while using Wirecast (7.1.0.28647; 64-bit; Windows 10 Anniversary) I'm trying to use Virtual Camera Out (Standard HD 720p) through Skype (7.27.64.101). My canvas and virtual out match!

It was working a fortnight ago...and now the video icon keeps getting a stroke through it. The person who I am calling can hear me clearly; and I can see and hear them. I have tried scaling the outgoing video right back to 320x240 with no joy. I don't believe it is a bandwidth issue!

Please note that I have another problem (which may well be related): when I am in Wirecast, and Skype and the same time, I am unable to use Skype. That is, if I click on tools, it doesn't do anything. I have to quit Wirecast to action anything in Skype. Therefore I cannot verify a live feed from Wirecast virtual cam to Skype (as has been shown above). I hasten to add that this little annoyance has always been the case for me when using Wirecast and Skype together.

A final point that may (or may not) be helpful. I can use any of my three webcams (which each sit on a separate USB bus) when running directly through Skype...again, I don't believe it is a bandwidth issue.

I really need a fix for this. Happy to provide further info if required.

Daniel Kay Skype can have issues if it was previously set to use a webcam now being used by Wirecast. You may want to start Skype first. Set it to something other than a webcam being used by Wirecast and save that. Then start Wirecast and start Virtual Camera. Start Skype and you should now be able to go into Tools and select Video and select Virtual Camera.

Thanks, CraigS . I really appreciate your help with this. Unfortunately, your suggestion hasn't worked though. The moment I open Wirecast, Skype goes all weird and I can't access options etc; and when I close Wirecast, it suddenly allows me to work in Skype again. I've tried uninstalling both programs etc...still to no avail. Please also note that I don't think it is an issue with the person receiving the call, because it has been happening to all of my calls (to different places all over the world).

I just tried calling from one of my Skype accounts to another in the same office. The camera using the virtual camera shot for the calling computer keeps turning off once the call is connected.

Consider the issue confirmed. Please do fill out the form and report it.
Wirecast Support Form

Just got a reply from tech support:

"It's possible, I'm not seeing that problem here on my machines. Could be just a fluke on your machine. I'd create a new document and reset the preferences and try it."

CraigS , do you have any influence with tech support? Can you draw their attention to this issue...noting that you have replicated and confirmed the problem?