1

Wirecast Virtual output to Skype, not available in calls
Windows 7 (7601)
WirecastPro 6.0.8
HP Zbook17 i7-4930MX @3.00GHz 32Gb ram
Wirecast Canvas size 720p
I am trying to send my Wirecast output into a Skype call. I have the Wirecast virtual camera out set to HD720p with Virtual Microphone enabled as well.
In skype the settings I see look good and I have picture.
Even when I'm starting a call I can see the Virtual Camera before the call answers.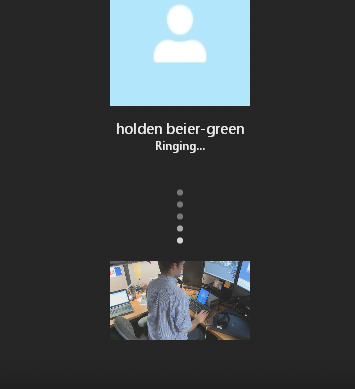 But when the call connects the virtual camera feed stops and goes away and the enable video icon turns to this and I cant start it back up.
The virtual microphone still works and I can hear the Wirecast output but don't have video.
Is this even a Wirecast problem? Is this a Skype issue? I don't think it is a bandwidth issue the other end of the call is able to send video back.
CraigS Hmmm...I'm seriously frustrated by this issue...and it's costing me money. I conduct singing lessons online via skype and I use WireCast to facilitate multiple cameras for the lessons...but currently my $1000 for the PRO version is costing me more and more each day. I'm over excuses...I want it fixed!

So here's the reason why I can't log in to my legacy versions any longer ( http://drdan.co/2n8OKkX ). Skype has shut down all legacy versions before 7.17. Is it coincidental that everything up until and including 7.16 work with Wirecast VC?

I'm running Windows 7, Wirecast 7.4 and Skype 7.32.0.104.

Everything is set up and working until I place a call or receive a call.

When it connects ------

I see the other systems video , and I can hear their audio.

The other side can hear my audio but can only see the profile picture I have set up. I have a slash thru the camera icon on the Skype screen.

On the system running Wirecast I get a message from Skype saying that Skype can not connect to the webcam, try another or move to another USB port or close the application that has it open. I check the Skype setup and the video is set to the virtual camera.

Wirecast shows the Skype screen in the shot ( preview and/or live)

Seems like Skype is only looking for USB cams.

Tried this test only using Skype -

I have a Blackmagic card in my system, connected my Canon XA20 via HDMI and then select that camera in Skype ( all my BM cards show up in the list with the virtual cam and USB cam). When I select the cam connected via hdmi.....no picture.

On another test.......set up the virtual cam in WC to be used with GoTo Meeting.....worked great using USB or hdmi cam.

Skype broke Wirecast Virtual Camera support so it won't show once the call connects. We have been in contact with Microsoft. Skype tends to only work with webcams although Virtual Camera should appear as such.

Please fill out the form so we can log your issue.
Wirecast Support Form

Do contact Microsoft about the Skype issues you're running into as well.

SOLUTION ! Or at least a workaround that restores the Virtual Camera...

Here are the steps that were recommended, and worked for me. I'll give the thread details below so you can follow the path that led to these simple steps. There are also some clues about why this might be happening that the Wirecast Techs can investigate:

_____________________________________________________

1. Reinstall the latest version of Skype (if needed).
2. Browse to the Skype folder which is usually C:\Program Files (x86)\Skype\Phone
3. Rename RtmCodec.dlls (i.e. RtmCodecs.old)
4. Relaunch Skype and place a video call.

If you performed the rename while Skype was running, you would have to complete quit Skype and restart it for the changes to take effect.

_____________________________________________________

So I followed those steps and renamed the dll.

I noticed that after restarting Skype, it stayed renamed. Skype didn't regenerate it.

I've closed Skype and Wirecast and rebooted the system, launched everything again, and it continued working. I kind of expect to have to do it again the next time Skype updates, but it's easy. I also kind of expect Skype to do something else to break this workaround (not deliberately, but just because...). For now, yay!

Here's how I got there...

I posted the question about Skype and Wirecast Virtual Camera on a Skype Community forum:

https://community.skype.com/t5/Windows-desktop-client/Wirecast-Virtual-Camera-stopped-working-with-Skype/m-p/4627905

In case you can't see the thread, I'll copy the reply I got from techfreak:

Skype is designed to work with webcams. Compatibility issues can arise when using virtual software to emulate a webcam. You can have issues with using filter-based virtual camera software with Skype. If you use one that is kernel-based, you should not run into the issue (Ex. That latest versions of Manycam). Filter-based ones have issues negotiating/locking the resolution with the new Skype protocol. Unless Skype makes adjustments to the protocol to cater to filter-based drivers, they will not work. You can try to force your copy of Skype to use the older protocol as described here (this will trigger a startup/reinstall error in Skype, but Skype should still function fine):

He or she linked to another Skype Community Forum that had nothing to do with Wirecast, but was aimed at other camera issues, and contained the steps I outlined above. There's no important reason for you to go there if you're just trying to make Virtual Camera work. I'm just including it to be complete:

https://community.skype.com/t5/Windows-desktop-client/Logitech-c930e-Video-Quality/m-p/4551217/highlight/true#M447648

I don't know anything about "Filter Based" vs. "Kernal Based" virtual cameras, but the comment about Filter-based ones have issues negotiating/locking the resolution with the new Skype protocol appears to address the symptom of being able to see the Virtual Camera in Skype Options/Video, but having it disappear when a connection is made.

Maybe that will help the Wirecast tech guys find a solution.

When I start Skype I get a message that Skype is damaged....update or cancel....I hit cancel.....Skype comes up....virtual camera now works in Skype. All I did was a quick connect for about 5 minutes and had no issues. Still need to try and hold a "real" conference to see if any other issues/problems.

Thanks for the update/work around!!!!!

juan cruz include Skype version number and OS and maybe Gary Pearce can do the same (he seems to be on Windows 7) just in case the OS and Skype versions are a factor.

BTW do make sure you quit and not just close Skype after trying his fix. In fact you may want to reboot just to make sure the reacquire of video (Virtual Camera) is starting fresh.