1
9.0(33822) | March 13th 2018 | First 9.0 Beta Build
Good afternoon,
The Wirecast team is pleased to announce a new beta version, Wirecast 9.0! We would appreciate any feedback – positive or negative – that you may have. In this version we've redesigned the Add Source Menu and we've added streaming to Facebook Live with a User Code. Wirecast 9.0 is also jam-packed with bug fixes and improvements! Please remember that this is a beta version and is not a representation of the final quality of the product, it could potentially have bugs and should not be used in a production environment.
Link to PDF version of the release notes.
System Requirements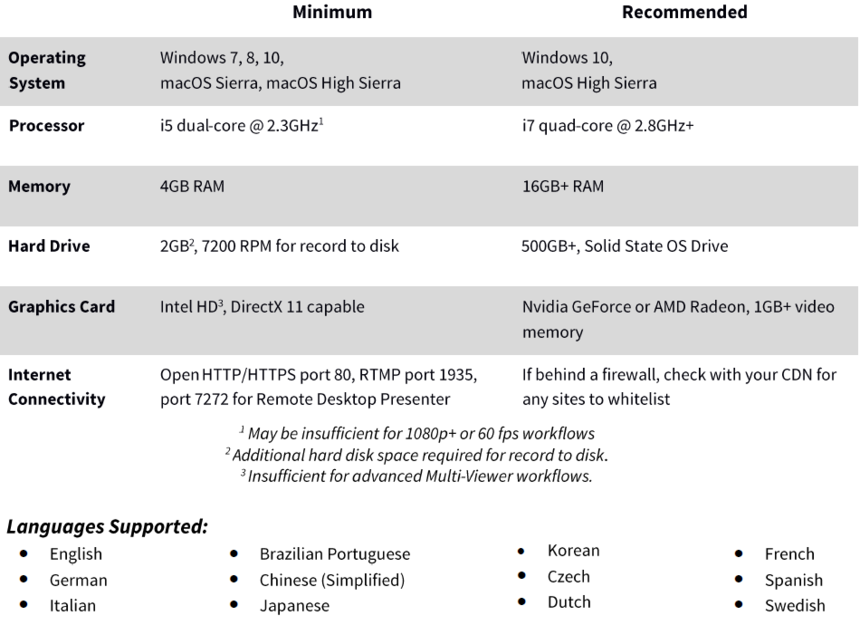 An internet connection is recommended for Wirecast 9.0 license activation. A Wirecast 9.0 license will automatically update at no cost after download for Wirecast 8 users if standard maintenance and support is current.
ATTN: Wirecast 9 has dropped support of HDV licenses/cameras.
~ Please click here for additional information ~
NewBlueFX Titler Live Express & Present – Includes over 60 title templates for lower-thirds and overlays (Mac & Windows).
Remote Desktop Presenter - Please use the Remote Desktop Presenter version 2.0.8, available as a separate download from Telestream: www.telestream.net/dtp
Best Practices
Minimum Required Upload Speed:
It is recommended that an upload speed rate of at least double the selected video bitrate be available, especially for a total target bit-rate of 10Mbps (Megabits per second) or less, or when there are multiple outgoing streams.
Upload speed can be tested at a website such as TestMy.net/upload
Additional tasks that can consume upload bandwidth on the network should also be considered when determining how much of the available upload bandwidth can be allocated towards streaming.
Rendezvous:
Wirecast Rendezvous uses WebRTC technology that can be very resource intensive. For the best experience, we suggest considering the following table when choosing hardware:

ISO Recording:
Solid State Drive or fast RAID array recommended for ISO Recording and Replay functionality.
Actual data rates will vary depending on quality level selected for ProRes (Mac) or MJPEG recording (Windows), as well as the resolution and frame rate selected.

For Mac ProRes recording please refer to Apple's ProRes data rate specifications.
Windows MJPEG Best Quality Guidelines (Megabytes per second):

1080i and 1080p 29.97 and 30 FPS, MJPEG Best Quality – ~25MB/sec
1080p 60 FPS, MJPEG Best Quality – ~50 MB/sec
720p 59.94 and 60 FPS, MJPEG Best Quality – ~20 MB/sec

Total expected data rate should be compared to available disk write speed to ensure adequate disk throughput.
Failure to ensure the available disk write speed is greater than the highest expected total data rate may result in frames being dropped from recordings (ISO, Replay, and Record-to-Disk).
Hardware accelerated encoding requirements:
Intel Quick Sync Video encoding requires an Intel CPU with an Intel® QuickSync Video core. List of Intel CPUs supporting QuickSync
NVIDIA NVENC encoding requires an NVidia GPU with Kepler architecture or newer. NVIDIA only maintains a general list of supported GPUs
Apple Hardware Accelerated H.264 encoding requires a Mac with an integrated Intel GPU*.

*This may change in the future, as the Apple API decides what hardware acceleration method is to be used. At the time of this writing, only Quick Sync via an Intel GPU is supported
High frame-rate streaming (60fps):
High frame-rate streaming will result in increased CPU usage and require a higher bit rate (4Mbps or higher) for a quality encode.
Simply switching to a higher frame-rate without ensuring the CPU and bitrate are sufficient may result in a lower quality encode.
CPU Usage:
Consider lowering your canvas frame rate and/or streaming resolution to lower CPU usage.
Maintained system CPU usage greater than 60% will increase the likelihood of dropped frames.
9.0

BETA

– New Features
NEW – Add Source Menu Redesign
New dark theme
New Search Field to easily find sources
New Categories for source
Favorite Category allows easy access to frequently used sources
NEW – Facebook Live – with User Code
Authorize Wirecast to stream to a Facebook account without giving out Facebook login credentials
"Set and forget" workflow allows for minimal Wirecast configuration before each new broadcast
9.0

BETA

– Improvements
Improvement - Added option to run in "Safe Mode" – Hold down the CTRL+SHIFT keys during launch - allows user to determine if clearing preferences fixes a launch problem without clearing preferences yet.
Improvement - Drag and Drop of File assets for Edit Panels Shot Layer Table
Improvement - If "Open last document on startup" is used and a document fails to load, a dialog appears on next launch to contact Wirecast support. This eliminates the need to clear preferences to exit the endless loop.
Improvement - Remove 540p settings from Facebook encoder presets.
Improvement - Rendering performance increased by improving lock usage. This change improves responsiveness in the UI when modifying complex shots in preview.
Improvement - Wirecast to warn user if classic mode (theme) is enabled
9.0

BETA

– Fixes
Fixed - Adding sources should create copies of existing sources rather than references
Fixed - Blackmagic output colors are off
Fixed - Cannot add Twitter shot inside of playlist
Fixed - Changing playback speed for media does not change 'already live' state
Fixed - Chroma Key changes as different overlay shots are taken in and out of live
Fixed - Colors in macOS encoded outputs look washed out
Fixed - Deleting a shot always selects the "Clear Layer"
Fixed - Frame drop occurring upon adding titles in preview
Fixed - Hang when manipulating source while master layer visibility is off
Fixed - Hang when right-clicking and left-clicking assets in the Preview Canvas
Fixed - Inconsistent deletion behavior when removing Playlists from the Shot Bin
Fixed - macOS encoded outputs look significantly worse than Windows
Fixed - Minimizing and then restoring a maximized document will disable the canvas rendering until Wirecast is resized
Fixed - Multi-Viewer can drop frames with capture card sources at 29.97 FPS
Fixed - No Web Stream configuration options if shot was previously cancelled
Fixed - Provide Feedback does not go to Form
Fixed - Sleeping computer and waking it while having media files loaded will make all loaded media files show black
Fixed - Solid color widget is transparent
Fixed - Stream will not automatically start YouTube event when checking "Automatically Go Live"
Fixed - Syphon server does not reconnect when opening a saved document
Fixed - The mouse scroll wheel in the "Twitter" "Message Feed" window does not work
Fixed - Triggering a Live preview swap mid transition will not queue shot to preview
Fixed - Unable to change the video adapter
Fixed - Windows Cuing live/preview swap while transforming source in preview causes crash
Fixed - Wirecast should not allow the computer to sleep while streaming or recording to disc
9.0

BETA

- Installers
Bill Naivar

That feature is not in the Wirecast 9.0 Beta 1, and it is currently waiting for prioritization. We do not promise that features will be implemented, I looked into your case and you were told that "It's been prioritized to a "future release." Which means it could be in the next update, or Wirecast 8 or Wirecast 9. There is no definitive." Let me know if you have any additional questions.

Internal reference # WIRE-12086

I've just started a new client contract for live streaming and my Canon HV40's only steam in 480p. I see that my HDV license has been done away with since I just purchased Wirecast 8 a couple months ago. Is your only suggestion to remedy this problem to buy new cameras? I have a stream in two days. I need this fixed immediately!