0
Workplace by Facebook Live Error (No Video Signal Received from Wirecast and Audio and Video out of sync)
Hi Telestream Forum,
Here are the details of the unit where Wirecast is installed:
OS Catalina 10.15.2

Wirecast Pro and Number 13.0.2

MacBoom Pro Retina 15in Mid 2015; 2.2 GHz Quad-Core Intel Core i7

Input sources of the video/audio and type of connection used including:
Cameras 1080p30 HDMI and 1080p30 SDI
Videos in AAC, H.264 Codecs
MP3 in 48 kHz sample rate
USB Input from Sound system in Linear PCM, 24 bit little-endian signed integer, 192000 Hz, Stereo Audio format

Complete hardware setup used for streaming - 2 camera setup is HDMI and SDI connected through Blackmagic Recorder

Server and/or CDN name - Through Workplace by Facebook Live

Wirecast preference settings (be complete)

Wirecast Canvas size: 1280x720

Streaming and Recording encoder settings
Hi! I just want to understand why Workplace by Facebook Live cannot get a video signal from Wirecast when I added an MP3 file in 48 KHz sample rate in the loop. Tried a few scenarios with the following results:
1. Go Live without the MP3 file
Wirecast Output Stats:
Workplace by Facebook Stream Health: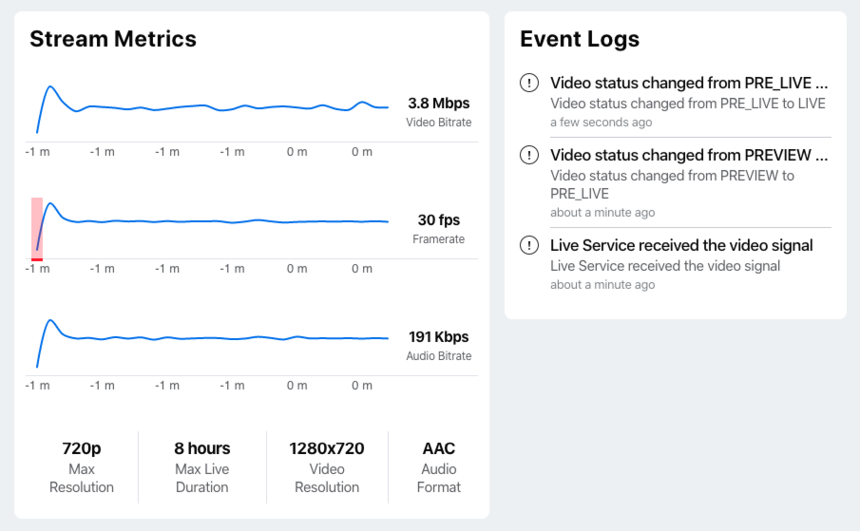 2. Added the MP3 file while ongoing Live and included in the Live output:
Wirecast Output Stats:
Workplace by Facebook Stats:
These are the two scenarios I tried, I just want to understand the following:
What causes the failure to read the video signal?

For the second scenario when I remove the MP3 file on live, the video and audio were not in sync anymore. What causes the out of sync output?
Hoping you can help me understand this. Doing a Root Cause Analysis Report for this failure.